StarGazing!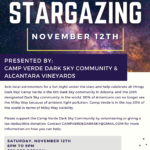 SATURDAY, NOVEMBER 12TH
6PM TO 9PM
$50 PER PERSON
INCLUDES 2 GLASSES OF WINE AND FOOD
*Bring warm clothes and gloves, it will be chilly
Make Reservation by emailing, annie@alcantaravineyard.com or calling 928-649-8463
Join local astronomers for a fun night under the stars and help celebrate all things Dark Sky! Camp Verde is the 6th Dark Sky community in Arizona, and the 20th designated Dark Sky community in the world. 80% of Americans can no longer see the Milky Way because of ambient light pollution. Camp Verde is in the top 20% of the world in terms of Milky Way visibility.
Please support the Camp Verde Dark Sky Community by volunteering, or giving a tax-deductible donation. Contact CAMPVERDEDARKSKY@GMAIL.COM for more information on how you can help.